The revolutionary training aid pickleball players are using to give themselves an edge. Quickly develop a reliable service, powerful controlled groundstrokes, and topspin volleys like the pros.
Why is Topspin important for Pickleball Players?
Want to be a better pickleball player? Have groundstrokes you can hit with power and still control? Dinks that push your opponent out of position? Want a topspin volley like the pros? Then You need the TopspinPro for Pickleball training aid.
"You've got to be able to hit the ball hard; nobody plays golf to putt" - Joan Pritchard, Pickleball founder.
Whether you're a new pickleball player, competing in tournaments, or want to up your game and skill level, using topspin is crucial. Topspin not only gives you extra tactical choices that you wouldn't otherwise have but also allows you to control the ball into the pickleball courts with extra speed. This means we can hit harder and more aggressively and place the ball accurately in areas of the pickleball court that are just not accessible in the same way with the equivalent flat shot. After all, nobody is here to putt!

Learn Technique Fast
Topspin is notoriously difficult to learn; some players never master it. It's tough if you don't come from another racket sports background. In only a few minutes a day, using just the TopspinPro and your paddle, you can master the biomechanics of the topspin swing - delivering a dramatic difference to your game within the first week. The TopspinPro training aid is an excellent pickleball tutor.
Why Do We Need Pickleball Training Aids?
The benefit of training aids is that they can allow you to play pickleball using a static ball. This means there's absolutely no pressure from a moving ball. It will enable you to train your technique with enough reps to build sufficient muscle memory before moving back to a more pressured situation like a real game. This is ideal not only for the beginner pickleball player but also for those who are learning new techniques or want to fine-tune their skills, even for Pro level athletes.
How Long Before I can See Improvements In My Game?
See the difference the TopspinPro can make to you as a pickleball player in as little as 2 minutes! But although the results are fast, repetition is crucial to "locking in" the topspin technique into your muscle memory. With just the TopspinPro and your paddle, you can hit HUNDREDS of balls every single day from the comfort of your own home or office. The TopspinPro is also easily transportable to the pickleball courts, which is perfect for warming up or training between games.
Does It Really Work?
Absolutely! The original TopspinPro has helped hundreds of thousands of players in over 100 countries transform their tennis. We then realized how helpful a topspin pickleball training aid would be!
Key Benefits Of The TopspinPro Pickleball Training Aid:
Learn pickleball skills fast - with just 2 minutes of practice per day; you can master topspin.
Correct Technique - The screens teach the exact bio-mechanics of topspin, allowing you to lock in the proper technique.
Add Power - Learn to control the ball using topspin and add speed to your serve, groundstrokes, volleys, and dinks.
Practice anywhere, anytime - The TopspinPro for Pickleball training aid can be used on the pickleball courts or is just as effective indoors at home for fun practice on a rainy day.
Ideal for all levels - The TopspinPro is ideal for beginners & intermediate players of all ages and also pickleball coaches. But can also be great for advanced players to use in drills and training.
Height is adjustable - Suitable for children aged five and over and for players up to 7ft tall.
Practising alone - If you love playing pickleball, then the TopspinPro gives you extra practice time without needing a ball machine or other pickleball players. Practice in your own time for extra convenience.
What If I Already Own The Tennis TopspinPro?
If you already have a TopspinPro, all you'll need is the TopspinPro Pickleball Replacement Pack. It only takes a moment to swap the tennis ball for a pickleball. You can buy the balls here.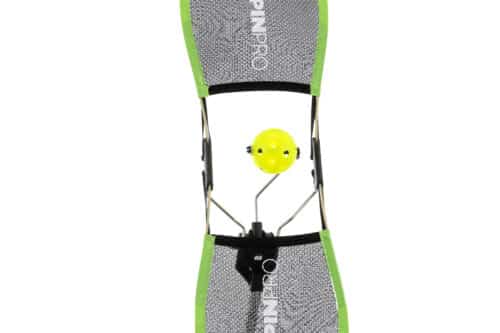 No-risk, no-hassle 60-day Money back Guarantee
You sweat enough on court - no need to sweat the returns process. If you have not discovered the many benefits of TopspinPro, just return it for a full refund.
Extended returns period
Gifting? Returns extended until February 2023
The TopspinPro for Pickleball training aids also come with a one-year warranty!