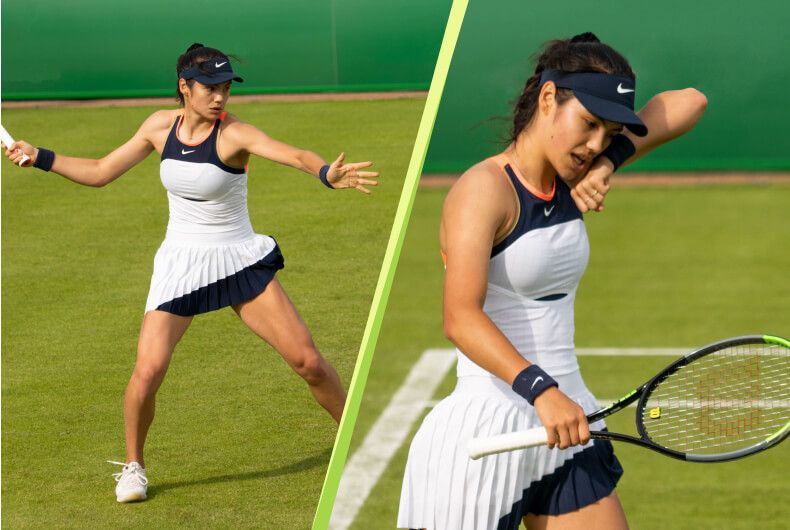 Credit: tenniscreative.com
There was a certain feeling hanging in the air at this year's US Open with the 20th anniversary of 9/11 looming and the pandemic still going strong. But, nothing could have prepared us for what happened. It was just what New York needed, a fairy tale, one even Hollywood would call far fetched! It reminded us that dreams can come true.
So how was it that Emma Raducanu, ranked 150 in the world at the start of the US Open, became the first ever qualifier in history to win a Grand Slam? The answer is Strategy. Most of us can be overwhelmed by the thought of planning ahead when we are really just focused on actually hitting the tennis ball. But, implementing just a couple of ideas like Emma, even at beginner level, can take your game a long way.
Strategy - Is your overall game plan. Emma's US Open tournament strategy was to play "aggressive" tennis.
Tactics - Are how you will achieve your overall strategy. Tactics can change at any point and will be based on the situation your are facing. For example, you will probably have a different tactic for whether your are serving vs returning. Some of Emma's tactics were: Returning 2nd serve from inside the baseline, moving her opponent around the court, aggressive 2nd serve speed. See the end of the article for a full list of her tactics.
Strategy and tactics are so closely related that really any tactic could be a strategy and vice versa. The 6 tips below can be used for both and is ultimately up to you as to how and when you would implement them.
Analyzing the situation
Before trying out any strategy or tactic, there's a couple of important factors to consider and practice. These will provide you with the situational awareness needed to set and evolve your tactics during your matches:
Read your opponent - You want to be able to recognize quickly what shot they are hitting and what kind of spin they are using. You don't want to be taken by surprise as the ball bounces at your end. Watching your opponent set up and strike the ball will tell you what kind of incoming ball it is and give you a split second longer to prepare.
Recognize when your opponent is under pressure - Watching where your opponent is situated on the court lets you know whether you are attacking or defending. If you can see early enough what position your opponent is in then you can be ready to attack or defend in time.
6 Simple Strategic and Tactical Tips to Improve Your Game
Out Rally Your Opponent
This is very simple, yet the most important tip of all when it comes to winning. If you keep the ball in the court one more time than your opponent, you will always win. We have all played against those players who get everything back. It's very frustrating, but it works. It may be the most simple tip of all but can often be the hardest to implement. Patience is a virtue here as hitting harder aggressive shots is always more satisfying!
Keep Your Opponent off the court
Another very simple but crucial tip in terms of commanding the tennis court. What we mean by "off the court" is to keep them behind the baseline or off the court to the side when trading groundstrokes. If your opponent is able to enter the marked court area it is much easier for them to attack. See the diagram below which highlights the important positions on the court. Use a blend of height and speed to keep the ball deep and your opponent in the neutral or defend zone. See our articles: "Why you need topspin no matter your level of tennis" and "8 tactical uses of topspin in tennis" and to see how you can use topspin to help with this.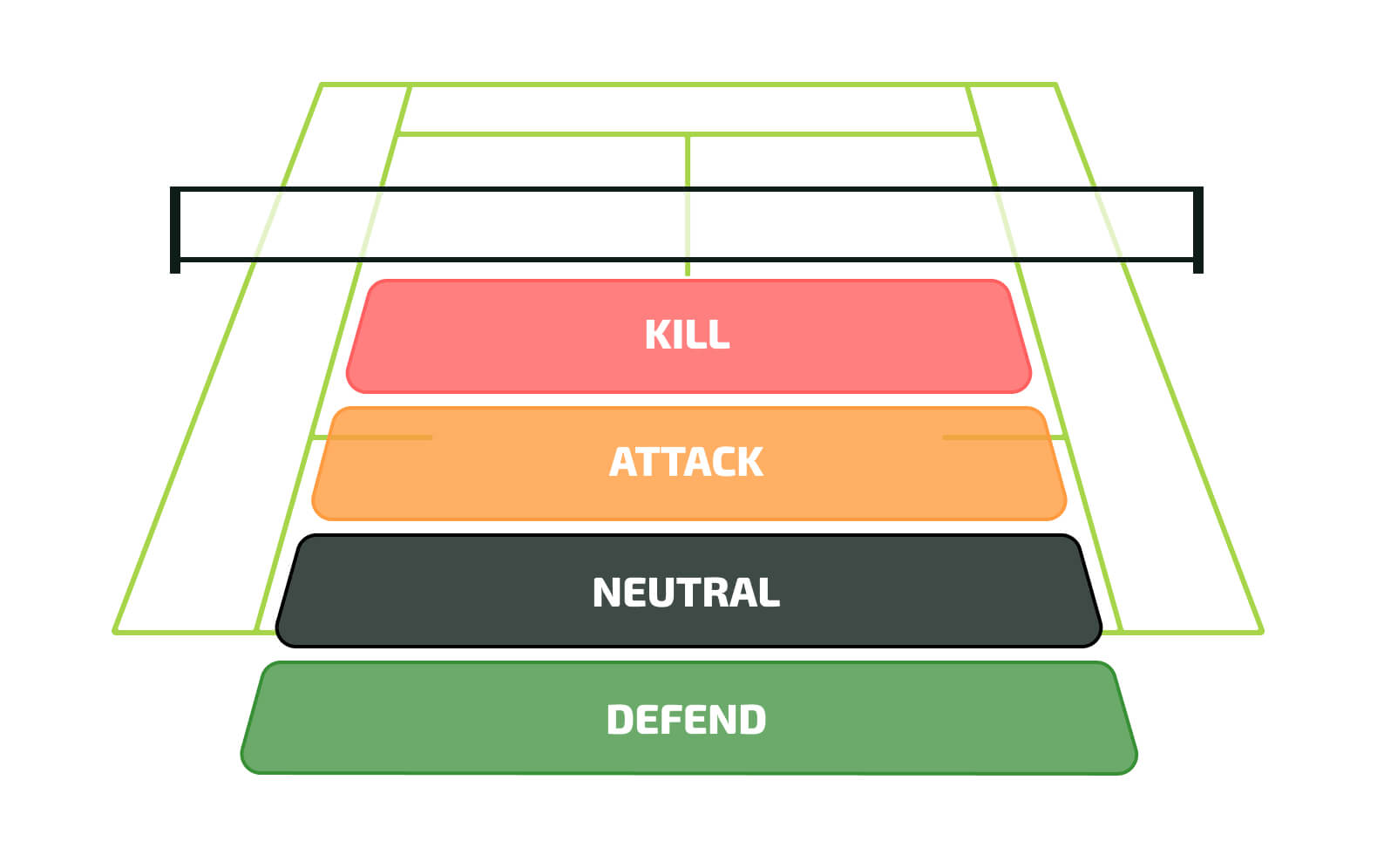 Play to your strengths
This is what Emma did well. She is great when playing aggressive tennis. Know what works for you. If you love to hit the forehand then cover as much court as you can using it and run around your backhand. If you volley well then get yourself to the net and use that to your advantage.
Play to their weakness
Hit to your opponent's weakness. This might be something obvious like a backhand or you may have to put them under a little pressure to find out. If you are playing against someone you know, you can prepare a strategy before you step on court. If you have never met the player before, you will have to do a quick assessment of their game during your warm up and then adjust your tactics as you progress through the match. During your warm up hit your opponent a good variety of balls. Watch them hitting high and low balls on both sides and also move the ball around a little to see how much they will run willingly. You can learn a lot about your opponent in those first minutes. It's also important to know your own weaknesses. If you see that your opponent doesn't like volleys but you really don't handle it well when someone is at the net, then there's no point bringing them in because it will put you under too much pressure. Play to your strengths and their weaknesses.
Hit to the spaces
A very effective tactic. If you always hit the ball to the gap then you will quickly wear your opponent down. The more steps a player takes, the more likely their technique is to break down. Even taking one or two steps can make a player miss a ball. You will very quickly frustrate your opponent if you are keeping them out of breath and under pressure.
Mix Up Your Game
Add variety to your game. If you always hit your serve the same speed and direction it will be very easy to read. Try mixing up the speed and placement and keep your opponent on their toes. The same goes for your groundstrokes. If you hit mostly topspin, try adding in a little slice. The ultimate goal is to be unpredictable. You need to keep your opponent guessing and on their toes.
In Summary
Complex strategy is not for everyone but applying even one plan to begin with can start you on the road to success. Tactical awareness can even improve your technical game because you are trying out new things and stretching yourself. So sample a few of these tips and give your game some structure.
Emma was successful at the US Open because she managed to stick to her strategy throughout the tournament all the way from qualifying to the final. No matter her opponent she didn't waver from the task at hand. She adjusted her tactics to fit her "aggressive" approach depending on the opponent and situation. An incredibly impressive feat and one that ultimately led to her being a Grand Slam winner! Here is a more in depth list of her tactics.
FAQs
How did Emma Raducanu Control Matches?

First-serve consistency

As well as being effective at forcing her opponents into defense, Raducanu's first serve was one of the most consistent at this year's US Open at 72%, significantly higher than the tournament average of 63%.

Second serve speed

Raducanu's 93 mph average was considerably higher than the US Open average of 82 mph. This additional pace kept her opponents from attacking her second serve.

Return of Second Serves

Contact point: Raducanu (vs. US Open average)

Inside the baseline: 93% (47%)
0-2 m behind the baseline: 7% (45%)
2 m beyond the baseline: 0% (8%)
Taking the ball inside the baseline was vital in reducing her opponent's time, contributing to them defending after 39% of second serve returns.

Moving the opponent

Raducanu regularly forced her opponents into defense by moving them with forehand and backhands down-the-line shots. While winners inform us what happened at the end of the point, the shots that occur prior can be crucial in gaining the attacking advantage. In the case of Raducanu, it was the forehand and backhand down the line that were pivotal. Throughout the tournament, Raducanu used 123 forehands down the line, of which 41% created an attacking advantage, leading to 61% of points won.

On the backhand side, Raducanu hit 106 down the line, of which 38% led to the opponent being in defense, winning 58%.

In an extraordinary tournament, fans will never forget how impressively Raducanu controlled matches through a combination of consistent first serves, early returns, and accurate groundstrokes. However, the genius of Raducanu is how often she used these to control and win ten matches back-to-back. That is Grand Slam-winning tennis.

Taken from the article "How Emma Raducanu won the US Open"
Stay in the loop
If you enjoyed this article, be sure to sign up for our newsletter and we'll keep you up to date about new posts