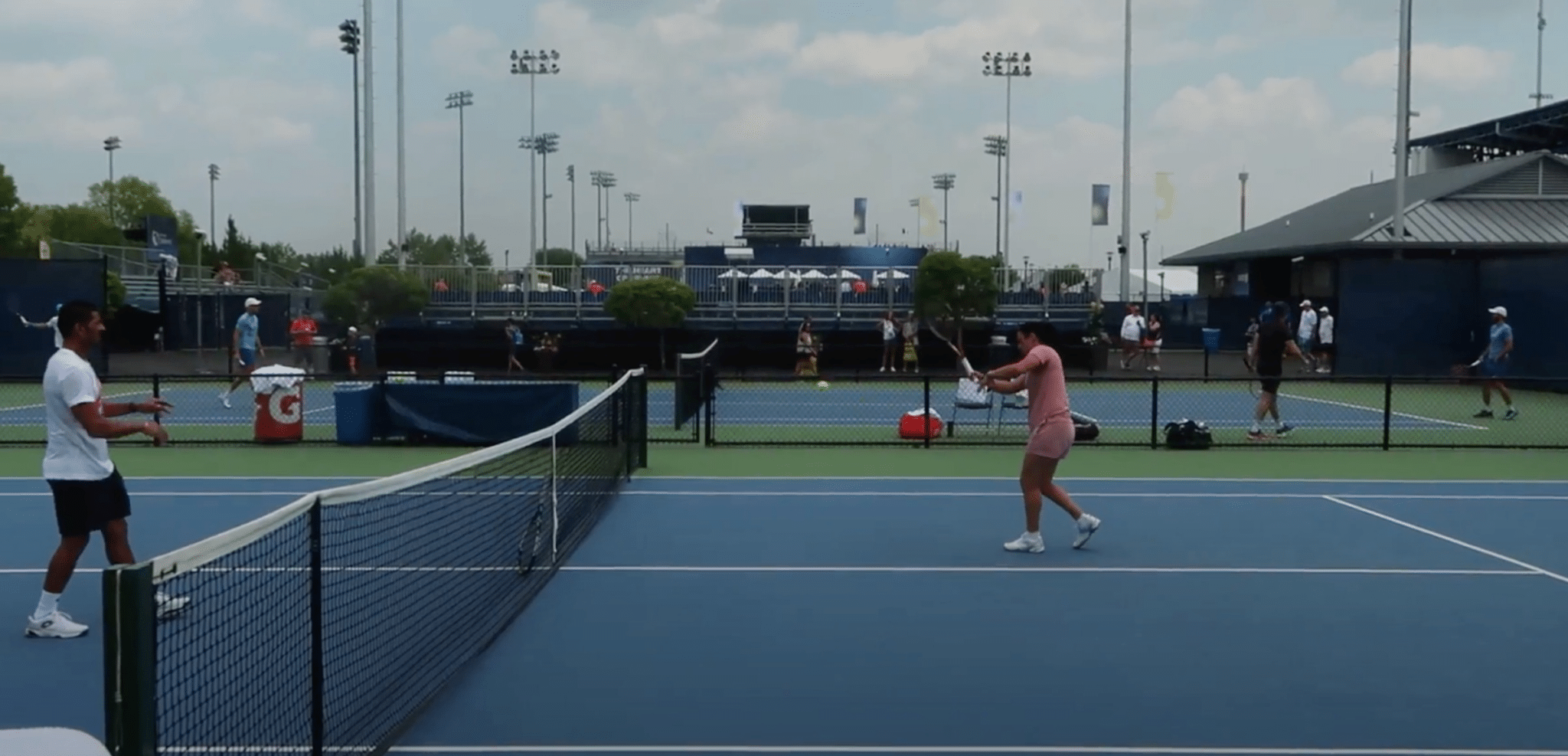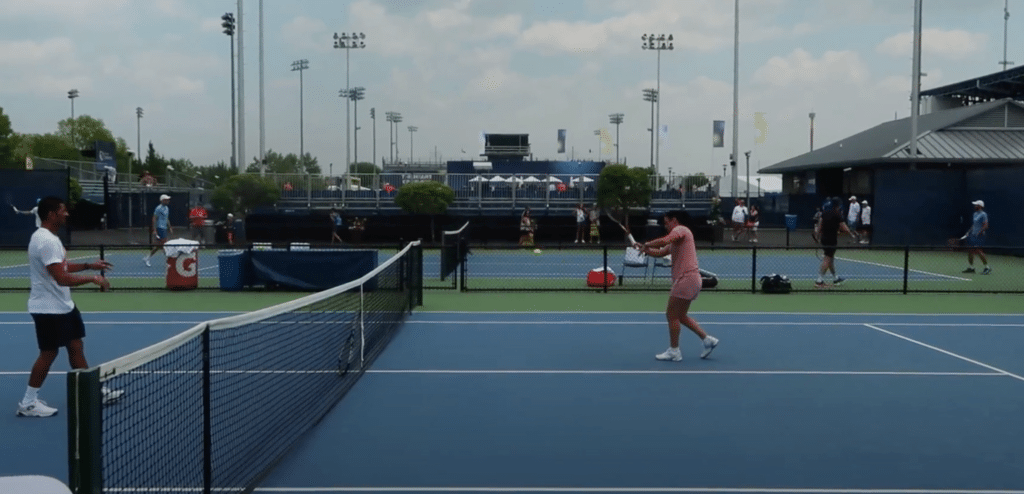 Ons Jabeur's performing her warmup routine at the Western & Southern Open
By understanding why professional players warm-up the way they do, you will pick up on key points of emphasis that will take your strokes to the next level.
Ons Jabeur's Unique Warm-up
As I traversed the practice courts at this year's Western and Southern Open, Ons Jabeur's warm-up routine caught my attention. The personable and warm-hearted Tunisian began every practice hitting very delicate topspin forehand shots standing well within the service box. I was familiar with short court (or mini-tennis) hitting for a few minutes as a warm-up, but this was more extensive and focused. Ons' coach was near the net, hand tossing the ball just a few feet over and catching each shot off Ons' racquet. She hit in this manner for about 10 or 15 minutes, working on all angles and distances (but all within the service box), including backhands and slices. See a portion of Ons' warmup routine here:
Ons is well known for her unique touch and feel on the court, and this practice habit undoubtedly contributes to her excellent hands and dexterity as a player. Her warm-up routine got me thinking about the foundational elements of top-notch groundstrokes. If it's important for a world-class player like Ons to cultivate and maintain her touch and feel for topspin each and every practice, shouldn't the rest of us follow suit? It just so happens that one of the greatest players of all time also performed similar warmup drills with her coach.
Serena Williams' Warm-Up with Patrick Mouratoglou
Patrick Mouratoglou, the former longstanding coach of Serena Williams, is on record as saying that he needed to change Serena's forehand when they began working together in 2012. From his many teaching resources available on social media, it's no secret that the influential French coach prioritizes acquiring touch and feel with the hands and playing with sufficient topspin for both forehand and backhand groundstrokes. Knowing that Serena did not lack in the power department (but could sometimes struggle controlling it), Patrick built specific drills into Serena's game to force her to play with more feel and topspin. The beginning of their practice at the 2020 US Open illustrates a very simple yet effective warm-up drill that Patrick consistently employed with Serena.
By hitting the hand-fed ball close to the net, Serena was forced to brush up the backside of the ball and implement topspin. This was done before anything else because topspin, touch, and feel are the basis for versatile stroke mechanics. While you can always scale it back to hit flatter, the reverse is more difficult. If your basis is flat-hitting, it can be challenging to adapt to topspin mechanics (and you will find that you need topspin in your game sooner rather than later!)
Steph Curry's Shooting Progression
Tennis players tend to think the best way to improve their groundstrokes is to head to the back of the court to grind out match-style rallies. While this is a necessary training component, drills employed by Ons and Serena that foster feel and touch for topspin are also essential to reach your full potential. When NBA basketball star Steph Curry decided to change his shooting form in high school, he didn't begin the process by moving back to the 3-point line to chuck up shots. He started 5 feet away from the basket with perfect form and execution. Then, he moved to 10 feet away, implementing the same mechanics. Without this step-by-step progression, the necessary foundation wouldn't have been built for Steph to shoot the long ball successfully.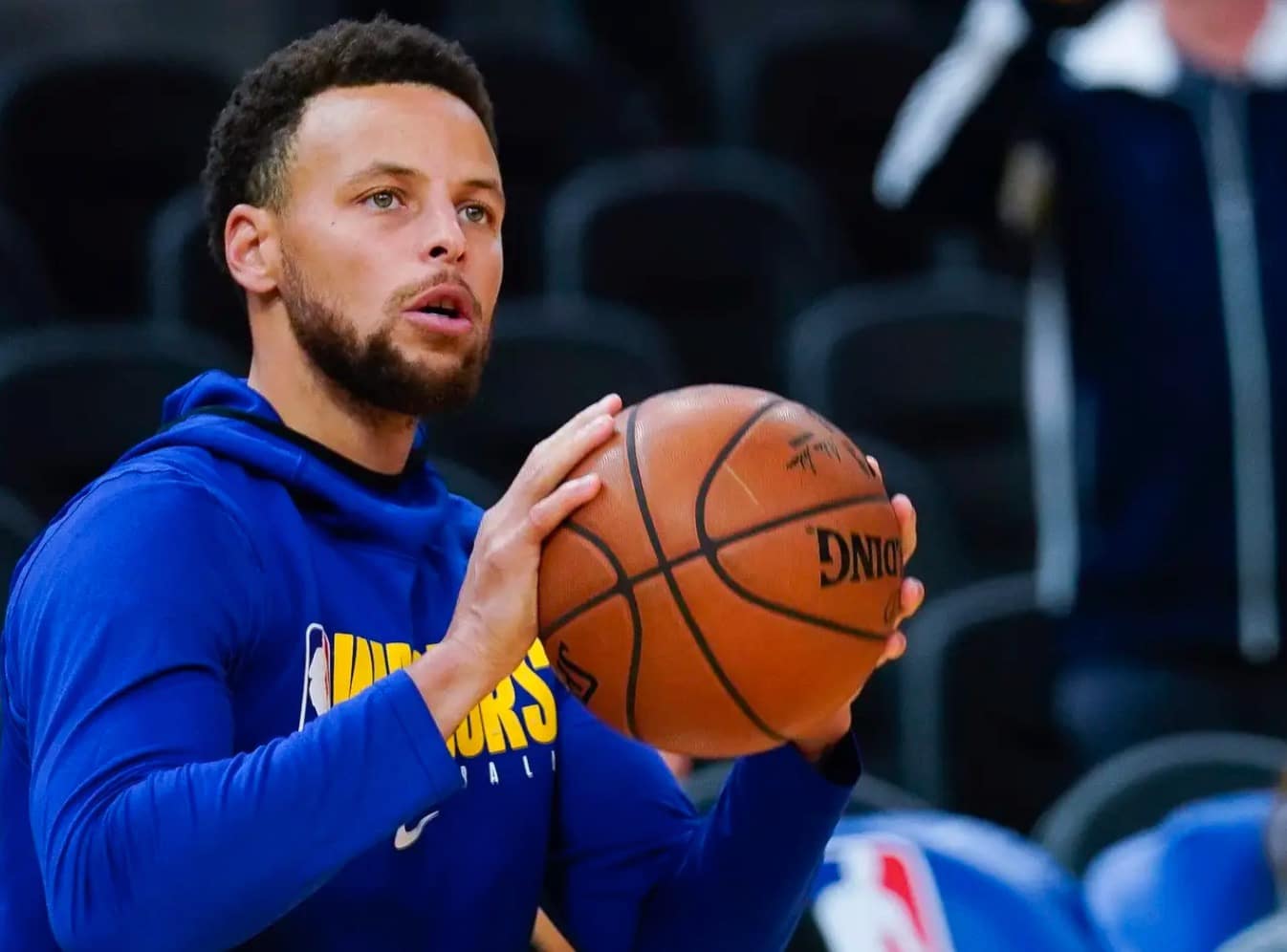 The same applies when building your forehand and backhand from the ground up. If you can't rally with control when engaging in mini tennis, you need to grow in your execution of topspin. Emma Radacanu's short court warm-up is a perfect example of exquisite ball control, feel, and topspin.
Emma's technically precise strokes, peppered with sufficient topspin, were a strong catalyst for capturing the US Open crown at age 18.
The TopspinPro is an Effective Warm-up Tool
The Topspinpro is a unique training tool that can enhance your warm-up and accelerate your ability to hit topspin like the pros. And you don't need a coach to feed you balls (or catch your shots!). The device itself gives you all you need to make improvements. With consistent practice on the TopspinPro, the core fundamentals will be ingrained in very little time, and your improved touch and feel will pay off on the tennis court.
Stay in the loop
If you enjoyed this article, be sure to sign up for our newsletter and we'll keep you up to date about new posts